Publishing listings to third party portal aggregators, such as XML2U or 1001portales allows you the flexibility of marketing your listings to over 200 portals supported worldwide. These companies serve as an aggregator where Propertybase can, in the background, send an XML feed to them where they then convert it to a compatible format with the real estate portals you are subscribed to.
XML2U and 1001portales are subscription based company, which charge a minimal fees for their services. Before signing up, make sure to have your listings prepared in Propertybase so that you can speed the publishing process. If you want to go for 1001portales, please submit a ticket as this requires the installation of and additional filed package into your ORG. We´ll help you with that :-)
The following tabs provide the steps required in order to prepare your Propertybase Org for publishing to XML2U.
Setup the Portal for XML2U
First step is to create a Portal record to ensure that Propertybase knows what type of feed it will create. To do this go to the "+" sign at the end of your tab section. Then select the object "Portal". (Example with XML2U)
Create a new record and name it "XML2U".
Mark the "Is Active" checkbox
Select the value XML2U from the "Generator" picklist field (If you can not find it, please add it as pick list value on the portal object)
Select the value "pull" from the "Type of transfer" picklist field

For 1001Portales the Generator must be "1001Portales"
Edit your Listings Layout
To publish your listings to a Portal Aggregator and thus your real estate portal, they will need to be prepared first. This entails:
Edit the page layout of both the Rent and Sale record types and add a new section. Name it: Portal Syndication. Make sure it is a one column section. Add the fields "Broker Listing ID" and "System Allowed For Portal" to this section. In addition add the Visual Force page "Portal Syndication Overview"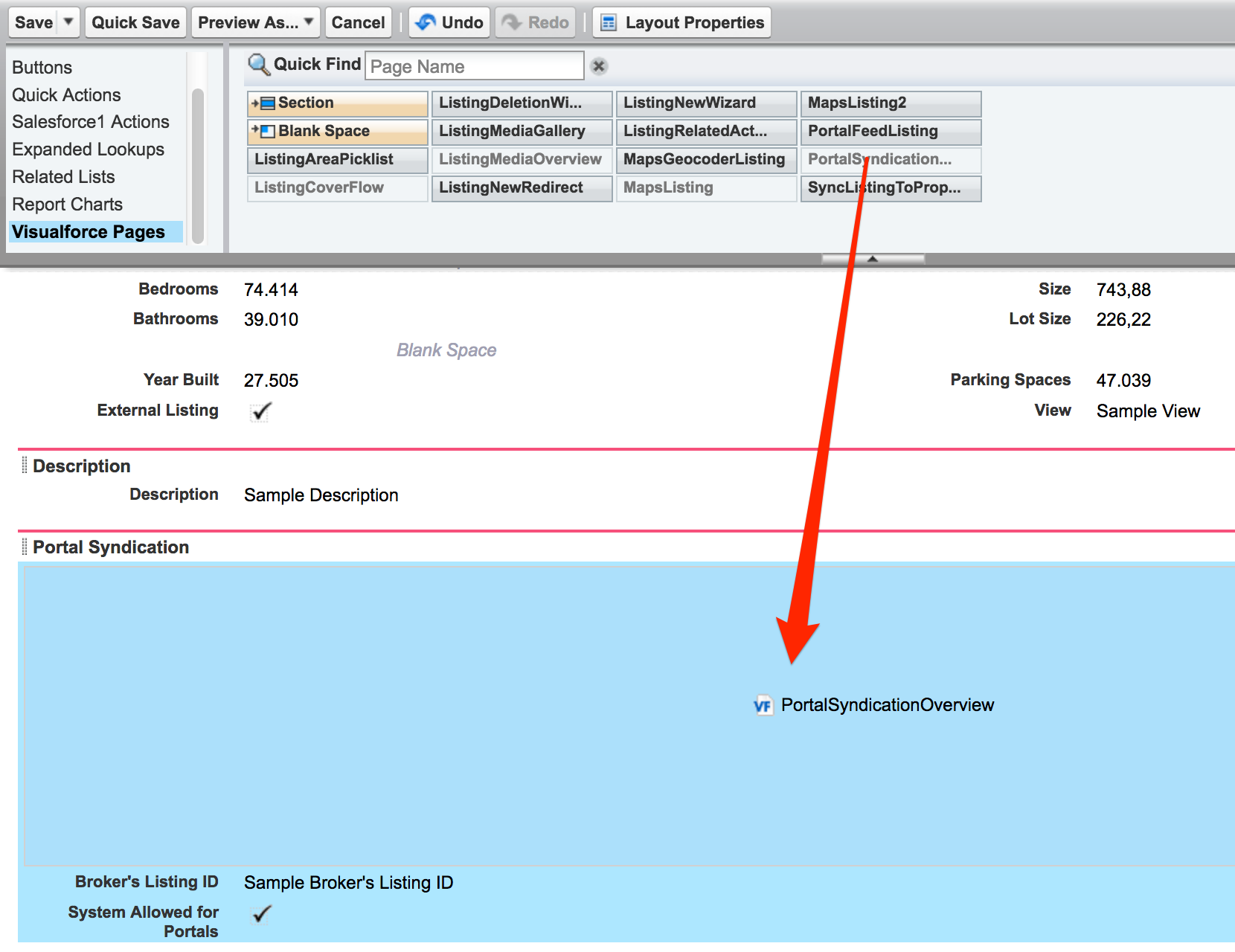 Add the related list "Listed on these portals"

Adding all details and information to each field. You can include custom fields, just add them to the page layout. Use as many of the Propertybase standard fields as possible as this will ensure compatibility.
Upload all relevant images to the media manager of each listings and ensure to add them to the Portal Feed pool so that they are available for the portals. 
Every listing record is required to have a Broker Listing ID. The value can be anything as long as it is unique to that listing. 
Also, it is important that you populate all fields that are required on the Portals you wish to publish.
Activate Listings for Publishing
Once your Listings have been prepared you will need to activate them for publishing.To do this click the "Allowed for Portals". Validation rules will trigger to ensure that your listing is ready for publishing. If an error appears, make sure to fill out the required fields. 

You can automate this process by connecting it through a workflow rule to your Status field (ex. Active). This can be done by following these steps.
Publish Listings to XML2U
Once the listing has been validated simply click the "Add" button to add to your feed.

Your XML Feed Endpoint
Now you will need to generate you XML URL to send over to XML2U. The following link provides you the structure. All that is required is to enter your Org ID and the Portal ID replacing the bolded section between the two dashes:
XML2U
https://manda.propertybase.com/api/v2/feed/<ORG_ID, 18 digits>/generic/<PORTAL_ID, 18 digits>/full
1001portales
https://manda.propertybase.com/api/v2/feed/<ORG_ID, 18 digits>/1001portales/<PORTAL_ID, 18 digits>/full
By default the 15 digit ID is given, to covert to the 18 digit please go to this ID Converter. The Portal ID can be found in the URL of the portal record you created.
After adding the two ID's you will be able to see the XML feed and all your listings in it. Now send this URL to XML2U after creating your account.