In this article we will cover how to add or remove fields from search results. The fields that are displayed when viewing search results are object-dependent. That means you need to edit the fields displayed for each object individually. Once you have decided which object you want to edit, follow the steps below.

Editing Search Layout
Click the gear icon in the top right of the screen, then click Setup.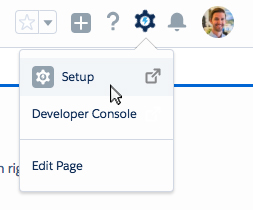 Click Object Manager in the top navigation.

Select the object that you wish to modify.
Note: In this example we have selected the Contact object.

Click Search Layouts on the left side of the screen.
On the next page, using the drop down arrow, click Edit on the Search Results option.
On this page you can use the "Add", "Remove", "Up" and "Down" arrows to modify the fields that will display on the search results page for your chosen object.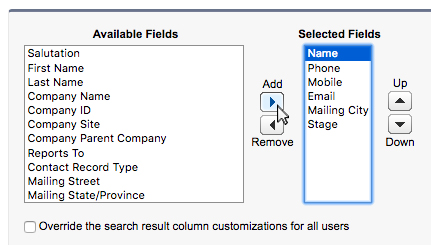 Done! You have successfully modify the search layout for your selected object.
Search Layouts enable you to edit the fields that appear in the search lists after using the search bar. At times it may be useful to be able add or remove that you find help you better identify what exactly you are looking for.
To add or remove fields from the different page layouts:
Companies, Contacts or Activities: Go to Setup/ Customize/ Select the object of choice/ Search Layouts
Requests, Offers, Closings, Listings, Properties: Go to Setup/ Create/ Objects/ Select the object of choice/ Search Layouts
Within this page you will be able to edit the different search layouts that are available for that particular object. Click edit next to the layout of your choice and add/remove fields using the the available arrow keys. Finally click Save.