Email Quicktext Collections Follow
In Propertybase version 1.460 we've added the ability to organize email quicktext by collection.
Not on version 1.460? Click here to upgrade.
---
Using Collections
You can launch email quicktext collections in the lower left corner of the Quicksend tab.
Navigate to the Quicksend tab and click the Email Quicktext icon in the lower left corner of the email.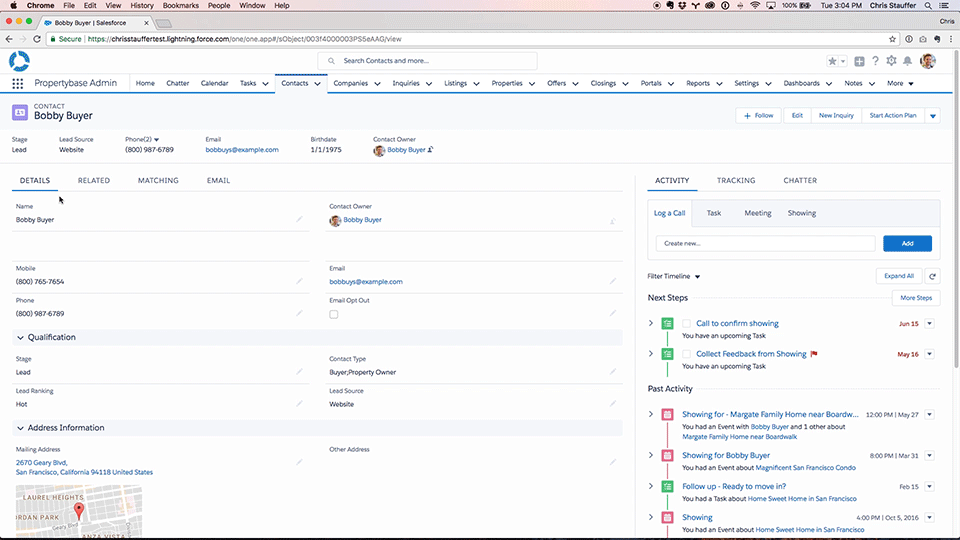 Quicktexts are organized by collections on the left side of the modal window.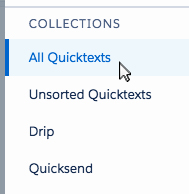 ---
Searching Collections
You can search for quicktexts, by selecting "All Quicktexts" and using the search box. Additionally, can search within specific collections by selecting them on the left side of the window prior to performing a search.
Table of Contents
---
Saving Quicktext while using Quicksend
Any Quicksend message can be saved as Quicktext. Doing so allows you to reference the same message later, without the need to retype it. Open Quicksend and follow the steps below to save messages as Quicktext.
Once you are satisfied with your message, click the Save as Quicktext button.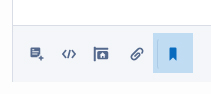 Enter a Name for your quicktext and select a Collection.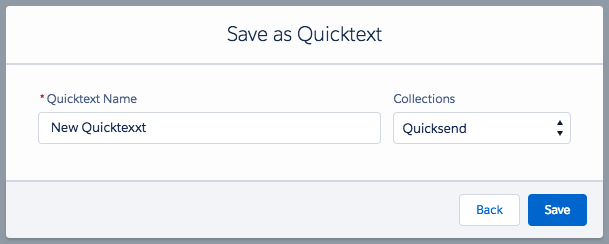 ---
Using the Quicktext Editor
Alternative to the steps above, you can also edit Quicktext using the built-in Quicktext editor. This allows you to see all your Quicktext at once, quickly make changes to exisiting Quicktext or create completely new ones. Follow the steps below to access the Quicktext editor.
Click the App Launcher in the top left corner of the screen, then click Marketing Center.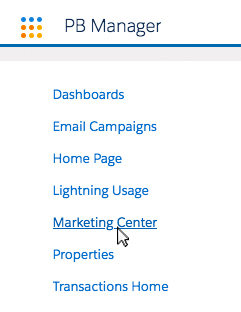 Next, click Quicktext Editor in the list of features.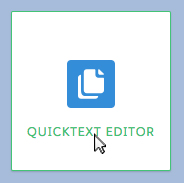 Reference the table below for an overview of the features available within the Quicktext editor.
Navigating Quicktexts
The categories located on the left side of the screen can be used to filter and locate specific Quicktexts.
Editing Existing Quicktexts
To edit an existing Quicktext, simply click on its name.
Creating New Quicktexts

The "New Quicktext" button does just that - opens a new page, with blank Quicktext fields available to be filled out.
Creating a New Collection
Click the gear icon in the top right of the screen, then click Setup.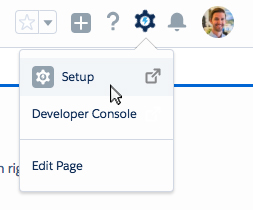 Scroll down and click the Quicktext Object.

In the left menu, click Fields & Relationships


Select the field "Collections"
Scroll down and under Values click New.

Enter your new Collection name and click Save.
Note: You must clear your Propertybase cache for changes to appear.
---
Related Articles