Create Fields & Edit Page Layouts (Classic) Follow
What are fields and page layouts?
Fields are a way to store different data about a record in an organized fashion. You can think of them in terms of a spreadsheet. If you have each record organized horizontally each column would be a field in Propertybase. For instance, if you have a customer record  you might want to know their Name, Email address, billing address and title. Each one of those pieces of data is stored in a field in Propertybase. Propertybase provides you a variety of field types that you can use to store data in the most effective way. Unlike spreadsheets, you can arrange data in Propertybase in the way that makes the most sense for you. To do this, you can edit the existing page layout. Page layouts are simply the arrangement of fields you see.  Through the page layout you can add fields in the right position.
Why are page layouts and fields important?
Propertybase gives you potentially unlimited options for managing data that is important to your business. You can easily manage this in a manner of seconds without the need for a support representative to assist you. No downtime is required, and all changes are immediately seen by all your users.
How to enter the edit mode for the page layout?
As an Administrator of Propertybase you are able to modify the page layout to optimize the way your agents work through records. There are two ways of entering the page layout edit mode from a record.
From the record detail page you are able to click the blue link titled "Edit Layout" found on the upper right hand corner of the screen.



 

If you have the Force.com Quick Access Menu available, you are able to click the green arrow button on the far right of your display. This will pop out a menu, select the option "Edit Layout".

Once in the editor, simply drag and drop the fields you want to add/remove from the page layout. It is also possible to modify blank spaces, new sections, related lists, visual force components, custom links and actions. Design as you please and simply Save when finished.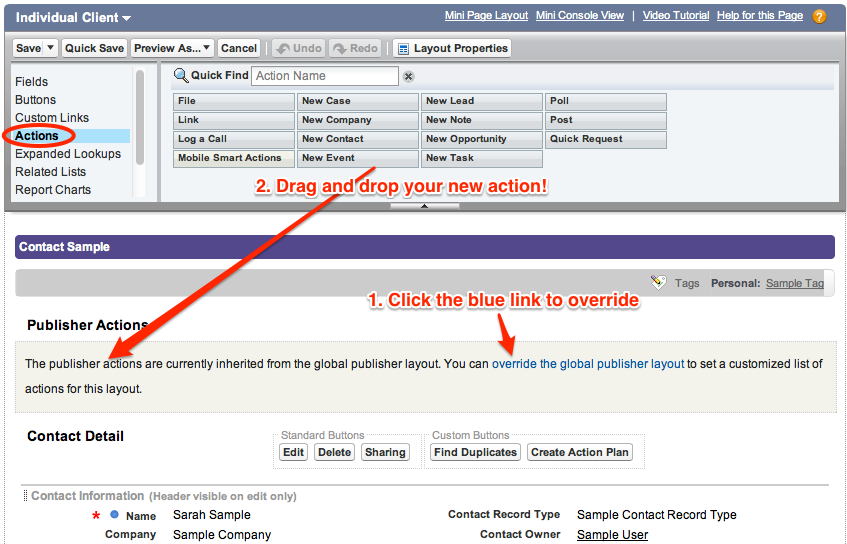 Customizing Objects as a PB Administrator
Propertybase uses a few Force.com standard objects, as well as its own fully customized objects. Both types are fully customizable, but are found in two separate locations within the Setup menu.
To find the standard objects that Propertybase utilizes from Force.com (Activities, Accounts, Contacts and Reports & Dashboards) it will be necessary to navigate to: Setup/ Customize/ Select the Object of your choice
To find the Propertybase customized objects (Listings, Requests, Offers, Closings, Properties, etc.) navigate to: Setup/ Create/ Objects/ Select the Object of your choice
From these object settings new fields, page layouts, record types and buttons can be created.