As a PB Administrator, you want a quick and easy way to enter the set up directly to the object you are interested. Now with the Force.com Quick Access Menu you are able to pull up Setup options right off any record in the system. You will simply need to click on the green arrow found at the right hand side of your screen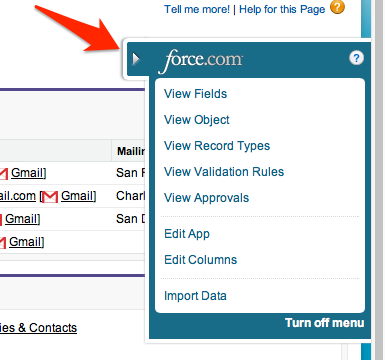 From here you will be able to view the object setup, fields, record types, validation rules and more. If you don't have access to this menu, simply activate it. If you are on the latest Propertybase version click on your name in top right corner then My Settings/ Personal/ Advanced User Details and click the Edit button.
For other Propertybase versions where your Setup settings are under your name, click on Setup/ My Personal Information/ Personal Information and click the Edit button.
You will find the checkbox to activate the menu (Force.com Quick Access Menu). After marking it, click the Save button and you will have the menu!