Note: If you are on Lightning (Propertybase version 1.414 and higher) you will be editing the "Branded Layout" in Templates. The steps to upload the logo file to "Documents" and replacing the URL in the template are the same, however. If you are uncertain about the whereabouts of "Branded Layout" please read the article on Templates in Quicksend.
By default the Propertybase logo is displayed on the Recommendation Email Expose template used for emailing clients the listings they are interested in.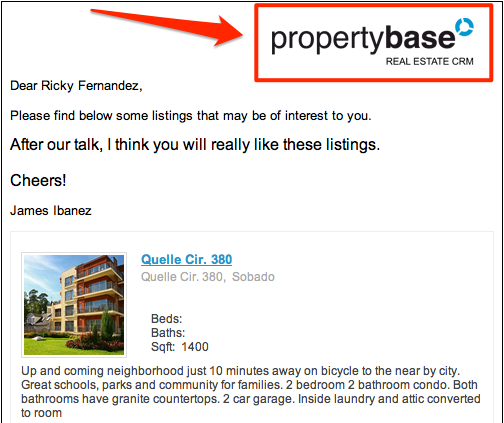 To change the logo in your Recommendation Email you must first upload the image to the Propertybase Documents Tab. Make sure you mark it Externally Available by clicking the appropriate check box field when uploading. After saving the image you will see a preview of the image with the description and details of the newly created document. Right click on the image and select "Open image in a new Tab". This will open the image into a new tab with its unique URL. Copy this URL.
Then go into Setup > Communication Templates > Email Templates and find the Recommendation Email. If you don't see it immediately, check and through the folders drop down, there will be a Recommendation Emails folder. Click Edit, you will see the HTML code for the email. Don't be intimidated ;) simply scroll down to the middle, there will be a section marked as logo with:

Paste your image URL between the quotation marks in the src="" section. Then click Save. This will add your logo to the email!
PDF: In most cases the PDF Logo will be in a template named "PDF Company Logo" or otherwise similarly placed as on the Recommendation Email Expose. Follow the same steps as explained above and replace the URL.