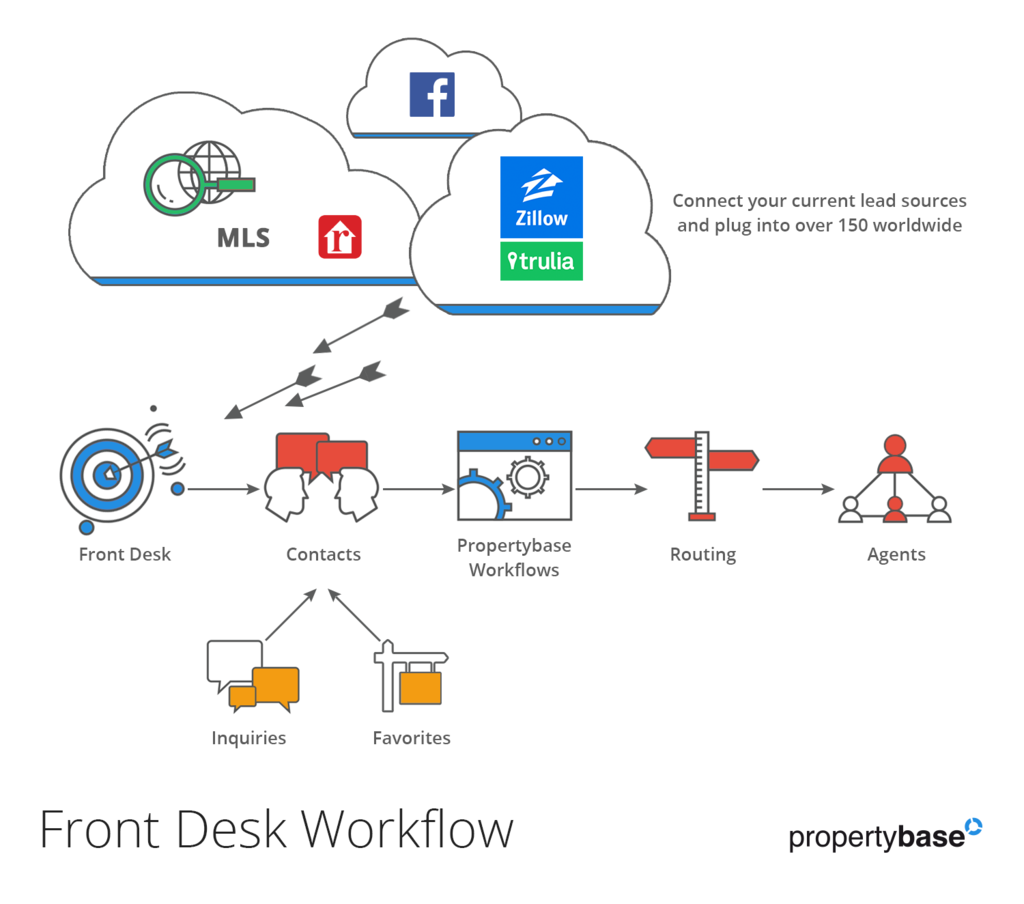 One of the most powerful features of Propertybase is its ability to incorporate leads into your database with no need for involvement or intervention from you. Thanks to the marvel of our Front Desk email-parsing engine, leads from the web are at your fingertips in Propertybase.
At a glance, the concept is simple. Your business gathers leads from a variety of different online sources, e.g., Facebook, Realtor.com, Zillow, Trulia, etc. These lead-gathering tools generate an email sent to your organization that contains the info provided by your new lead. Right now, what happens to these emails is anybody's guess. Maybe the info contained in them winds up in your database. Maybe not. Maybe it would be a lot easier to not have to worry about it. 
Enter Front Desk. Front Desk is the conduit through which the info contained in these emails gets into your database seamlessly and effortlessly. Rather than have your lead-gathering tools generate an email to someone in your org, you configure them to send to a Front Desk inbox we provide for you. Upon receiving email, Front Desk's parsing engine examines the information found in it and determines how best to feed that info into your database. 
Once that information has found its way into your system, you can leverage a wealth of features available in Propertybase to further automate and streamline how your business responds. Workflow rules allow you to have your system automate events around the arrival of a new lead, like creating tasks, sending email alerts, or changing values in certain fields. Propertybase's lead-routing feature gives you the means to automatically assign a sales agent to the new lead. Front Desk can also automatically create 'request' records for new leads, where a contact expresses interest a particular set of criteria or a specific listing. 
That's it! Front Desk is designed to take the monotony of data entry out of your hands so you can spend your time focused on deals. Its robust capability paired with the clout of Propertybase's wealth of features allow your database to grow and your business to flourish. 
Related Articles 
Front Desk - Capture your Contacts from your favorite real estate portals
Capturing Contact Forms in Propertybase
Setting Up Realtor.com for Propertybase Front Desk
Zillow and Trulia Integration and Activation - Step 1
Zillow and Trulia Integration and Activation - Step 2