In this article we will cover how to set up Front Desk inside your Propertybase account.
Enabling Front Desk
Enabling Front Desk is a very simple, one-click activation. To get started, open the Control Center.
This is if you are on version 1.500 and above Check your Version here
Click the App Launcher in the top left corner of the screen, then click Control Center.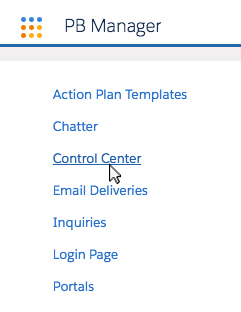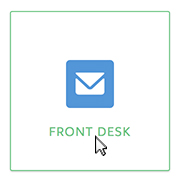 On the next screen, click Activate Front Desk.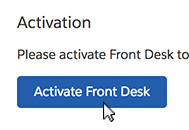 Done! Front Desk is now active for your Propertybase account.
The email provided (shown in the image below) is your personal Front Desk address and should be used for all incoming web leads. This means that any Listing Portal being used by your organization, should be updated to forward leads to this address.
To learn more about using Front Desk with Listing Portals, click here.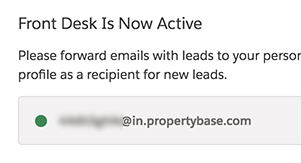 Interested in using a website contact form to capture leads? Click here to about Propertybase Webforms.
Classic Documentation
This is if you are on version 1.499 and below Check your Version here
Before accessing Front Desk, you must enable webservices. Once you've done so, please collect the information below.
Your unique Webservice endpoint URL, with the Web-to-Prospect path added to it. (For example: https://yourinstance.salesforce.com/services/apexrest/pba/webtoprospect/v1)
Your unique WebToProspect token. (This is generated and stored as a Propertybase setting by your administrator when setting up webservices.)
The Organization ID for your Propertybase account.
The Propertybase User ID of the record owner for incoming leads.
The name of the Portal you would like to connect to.
An email address that should be used for errors, feedback and general forwarding.
Once you've gathered the information above, make sure you also grant login access to the Propertybase Support Team. Once login access has been granted, submit a support ticket and request your unique Front Desk email address. Make sure to include all of the information listed above.