Want to capture internet leads directly into Propertybase? Introducing Front Desk by Propertybase.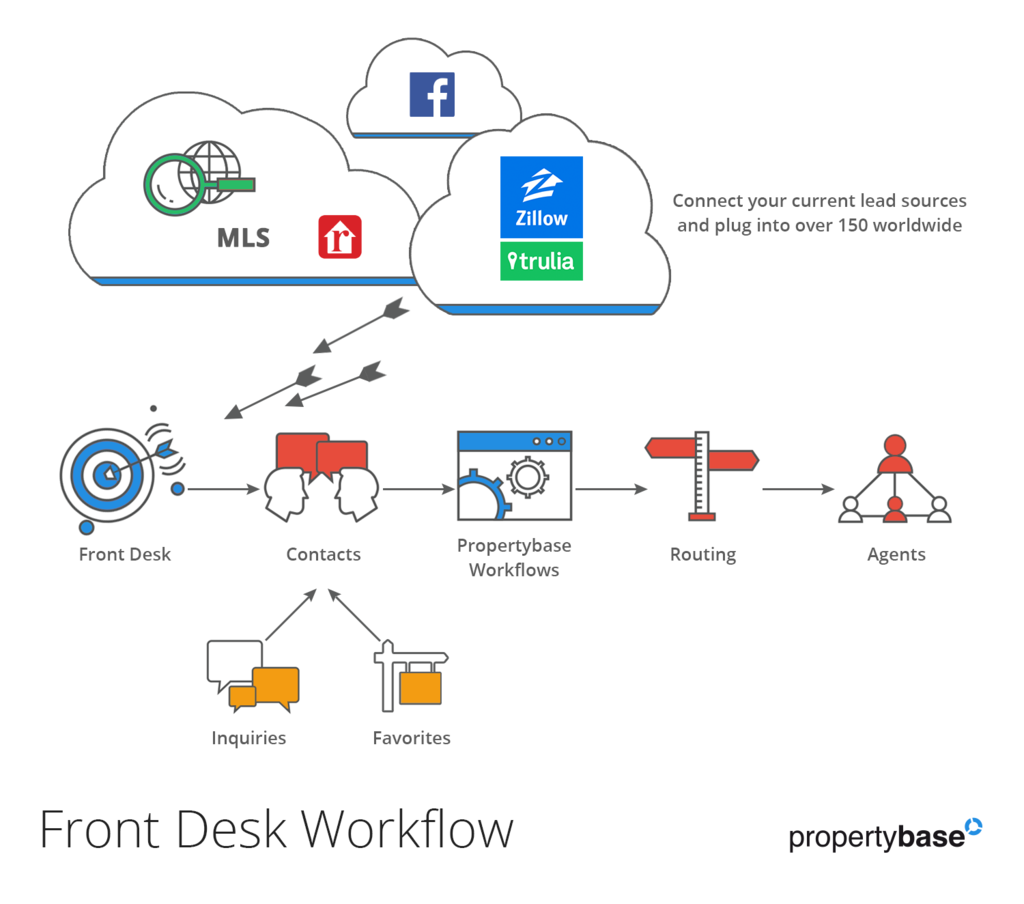 Front Desk, a service developed by Propertybase, is able to receive leads from a variety of online sources. Once a lead enters Front Desk, the information is parsed and imported directly as a new Contact in Propertybase. If the Contact already exists, Front Desk simply creates a new Inquiry related to the already existing Contact. The best part? This is all done without any involvement or intervention from you.
Without a tool like Front Desk, leads would simply be forwarded to someone within your brokerage and it would be their responsibility to import those leads into your CMS tool or customer database. Why not forward those leads to Front Desk instead and have them automatically imported into Propertybase? This saves time, money and eliminates any possibility of user error. The best part? You don't need to rework your current business process! Simply forward leads to Front Desk instead.
---
How It Works
When Front Desk receives a new lead, it will use a unique parsing algorithm to separate key data from the email message. This data will then be mapped to existing fields inside Propertybase and automatically imported. If the lead is from a new contact, then a new Contact record will be created in Propertybase. If the lead is from an existing contact, then a new Inquiry record will be created - and automatically linked to the existing Contact record.
---
Getting Started
To learn more about what real estate portals are supported, click here.
If you are ready to start using Front Desk immediately, click here.
Here are all the different methods to capture your data, click here.
---
Email Alerts
There are 3 alerts that you can receive per lead.
Error Alert is sent if the email template has not been set up or something is out of line. This is a mandatory alert as we do not manage your inbox. You will need to let us know that there was an error and not just spam. 
Success Alert is sent if the lead has been properly entered into Propertybase. Congrats you have a new Lead! 
Forward Alert is an exact copy of the email that is sent to us, we forward it to you. This is used if your lead source only can send to one email address.
You will need to let us know what ones you will like and what email address you want it sent to.
---
Related Articles