Enabling Profiles to Add Images (Classic Documentation) Follow
Images are a great way to market your properties. Within a Listing record, images are able to be uploaded for visibility on the record, Listing Browser or your website. Different users may need to have the ability to add images to the listings, but might not have access to do so. Please contact your PB Administrator if you do not have the ability to add images.
Grant access to Property Media Object
When logged in as a PB Administrator go to 'Setup' at the top right.  If there is no 'Setup' link, you are on the old interface, so 'Setup' is found in the dropdown menu when you click your name. 
In 'Manage Users' expand the list via the arrow on the left hand side and choose 'Profiles.'
Click on the Profile Name of the applicable Profile you wish to grant access permissions to.
Click on the 'Object Settings' option under the 'Apps' section of the profile editor.
Locate the 'Property Media' object under the list of Salesforce Objects and click on the object name.
Click the Edit button at the top and grant applicable permissions to the media manager(Read, Create, Edit).
Make sure to hit the 'Save' button once permissions have been granted.
NOTE**If the above steps do not display the button you may need to complete the following additional steps within the Settings Object.
As PB Administrator you will need to click the plus sign (+) at the end of the tabs menu.

The next page will provide you with a list of all of the available objects that you have access to. Locate the one called Settings and click into it.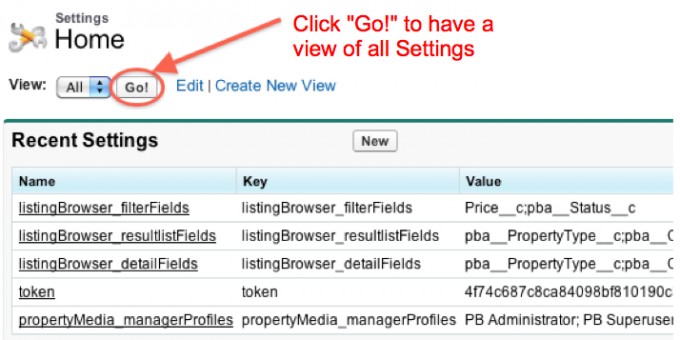 Locate the setting:  propertyMedia_managerProfiles
Next, just add the Profile of the user who will be able to add images to the Listings.  All profiles should be written identically to how they are found in the setup and separated by semicolons (;). For example: PB Administrator;PB Superuser;PB Agent
Finally click Save, and your users will now be able to add images in the Media Manager.
If this setting is was not found in the Settings tab, simply add it to the list by clicking the New button and adding the appropriate Name, Key and Values.
Image Upload button not working?  Jump this article for information on resolving the issue.