Note: Using Propertybase Lightning? Click here and follow instructions under the "Propertybase Webforms" tab.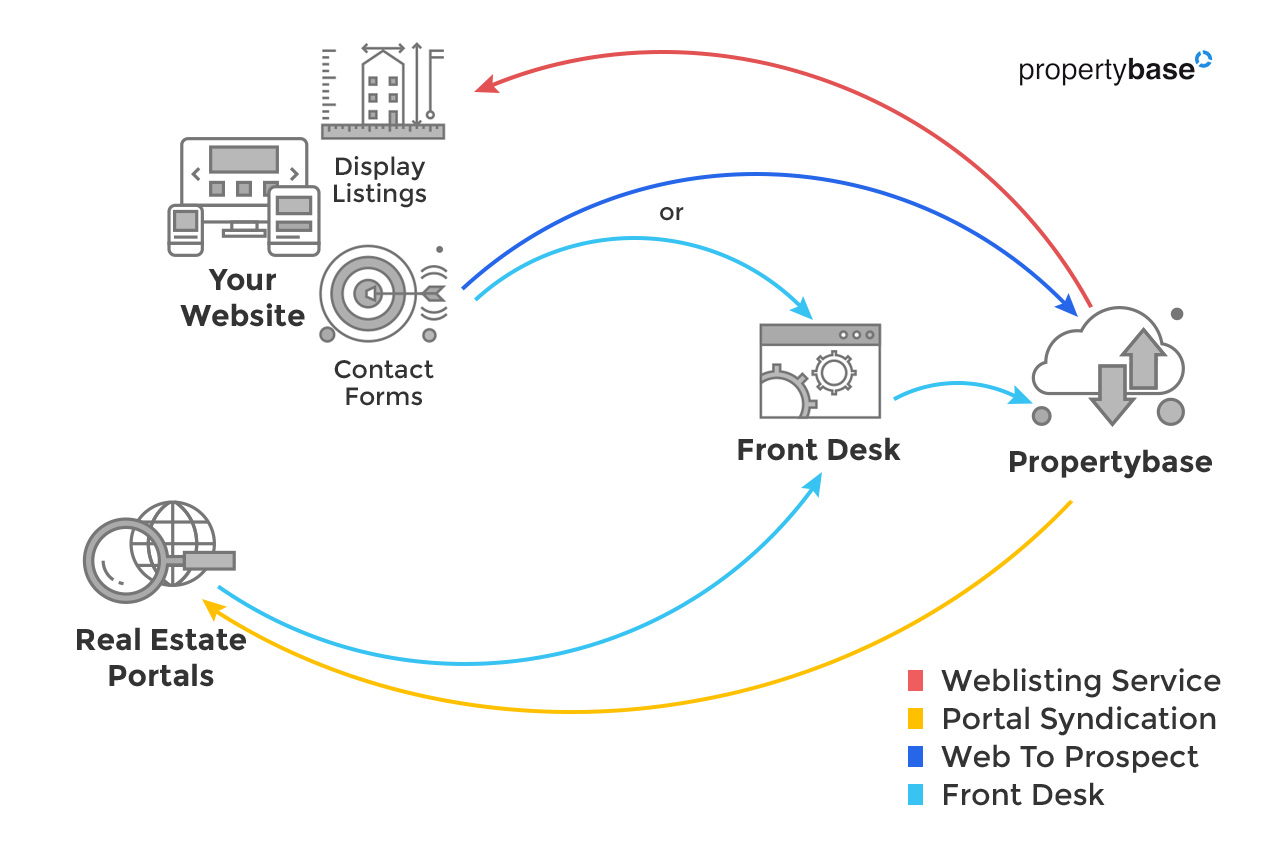 Enquiry forms on your website should be connected to Propertybase so that when a new lead comes in via your Website, the Contact & Request record can be automatically be created for you. There are 2 methods to achieve this:  
The preferred method is to use the Web To Prospect API as this provides the greatest level of flexibility when capturing data from web forms.
You will need the assistance of your Web Developer to implement this integration for you. Please click here for further details on setting up Web to Prospect Technical documentation
Method 2 - Website Contact Form through Front Desk
If you are unable to use the Web To Prospect API you can utilize the Front Desk Email to Lead Processor by having your web form send an email to your Propertybase Front Desk Email address.
First Step is to Contact Propertybase Support and ensure that you have a Front Desk Email address and that it is configured correctly. 
Next you need to edit the format of the email being generated by your web form so that our Front Desk server can read and decipher the information in the email. 
For Front Desk to process the email correctly the email needs to be formatted in a Machine Readable format. We use an XML tag format to achieve this. 
XML consists of an opening tag <> the data from the form and a closing tag </>. 
The table below lists the supported tags.
CONTACT FIELDS
<FirstName> Form Data </FirstName>
<LastName> Form Data </LastName>
<Email> Form Data </Email>
<Phone> Form Data </Phone>
<LeadSource> Form Data </LeadSource>
<MailingStreet> Form Data </MailingStreet>
<MailingCity> Form Data </MailingCity>
<MailingPostalCode> Form Data </MailingPostalCode>

INQUIRY FIELDS
<Project_Name__c> Form Data </Project_Name__c>
<pbasr__Rotation_Name__c> Form Data </pbasr__Rotation_Name__c>
<Property_Enquired_About__c> Form Data </Property_Enquired_About__c>
<Enquiry_URL__c> Form Data </Enquiry_URL__c>
<How_did_you_hear_about_us__c> Form Data </How_did_you_hear_about_us__c>
<Enquiry_Source__c> Form Data </Enquiry_Source__c>
<Message> Form Data </Message>
Note the XML tags are case sensitive.
Not all XML tags are required. The only required tag is the Last Name.
Front Desk takes the information from the email and puts it directly in Propertybase. Make sure you have all the information you need in the email. You can refer to the example above to get ideas of imformation that is needed. If not you can also just use a basic form of First Name, Last Name, Phone and Email.
If you have custom fields you will need to make sure you create the field first, then use the API name in the XML to know the field you want to use exactly. Classic  Lightning
On the other hand there is the option of getting more advanced and making default fields. Although this will make it the same for all leads that come in.
Front Desk does not do calculations, you will want to use the Process Builder to make those changes.
Front Desk also works great with our Sales Rotation feature.