In Propertybase version 1.609, we have updated Login Box to include several new features. Still included is the ability to refresh your connection (without reloading the page), check your current Propertybase version and System Status at any time. We have also included several new Quick Links to connect to multiple high-use areas depending on your Org's integrations.
We have added several new features to your Propertybase login box!
Once you have updated to v1.609, you will see a new and improved Login Box.

The new Quick Links include:
Intranet: If you are a BackAgent customer and have matching email addresses in both Propertybase and BackAgent you can select this to SSO (single sign-on) into BackAgent.
Select Website: If you are a Boston Logic Website customer this will allow you to sign into your Website.
Transactions: This will also SSO into BackAgent, taking you directly to the Transaction section of BackAgent.
Print Marketing: Again, this will SSO into BackAgent, leading you into the Print Marketing section of BackAgent.
Help Center: This option takes you directly to the Help Center.
A Lead Routing Toggle: To turn Lead Routing on and off.
The Latest Propertybase Version Installed and Connected to Propertybase Services lights remain the same, they will appear green if they are up to date and red if they need updating or a connection refreshed. You can select these if they are red and allow the system to walk you through the update or refresh of services.
If you are a CRM (Propertybase) only Org your login box will look similar to this: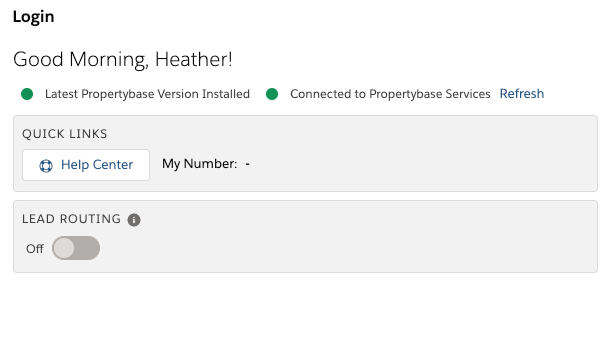 The "My Number" option next to the Help Center button will be active once our New SMS feature has been released.
Some Configuration Required
Some configuration will be needed if you're updating from 1.495 or below or a brand new customer.
You will automatically see the new login box. However, not all of it will be visible
We can fix this by using the page editor and increasing the height.
From the homepage, click Setup and then Edit Page.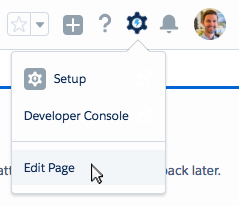 In the middle of the screen, click on the Login box.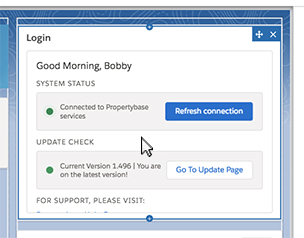 On the right side of the screen, update the height to 320.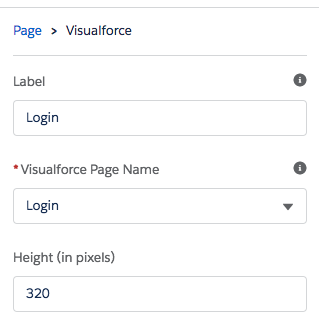 All done! You now have the latest and greatest login box.