BackAgent is the industry-leading transaction management tool for real estate. With the BackAgent single-sign-on (SSO) connection for Propertybase, you can seamlessly switch between your accounts, without the need for remembering multiple passwords or login information. As this partnership grows, this integration will continue to grow with it.
Want to learn more about BackAgent? Contact your Account Executive for more information.
Configure Single Sign-On
Note: You must have an active BackAgent account prior to following the steps below. Also, the sync is not intended to be used while on a Trial, please contact support for more information
To enable single sign-on for BackAgent, within Propertybase, follow the steps below.
Click the App Launcher in the top left corner of the screen, then click Control Center.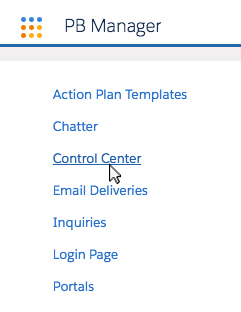 Next, click the BackAgent Login.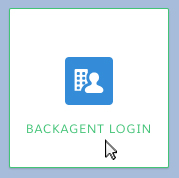 Enter your BackAgent Domain in the empty field.

How do I find my BackAgent Domain?
When finished, click Save.
Done! You have successfully completed the steps required to activate BackAgent SSO.
Once the steps above have been completed, you will see a BackAgent login button within the Propertybase home screen and control center. Additionally, BackAgent will receive an email with your SSO request. Please allow two business days for BackAgent to complete the setup process on their end.
NEW

: Contact Import Filters

More information about syncing your Transactions from BackAgent can be found here.

As of version 1.639 you can now select if you would like contacts to be created inside Salesforce when syncing your transactions from BackAgent. By default, no contacts are imported. You can choose to create contacts for Contacts on the side of the transaction you represented or both sides of the transaction. Additionally, you can choose to exclude specific BackAgent Roles from creating contacts.

By default, you leave the Import Contacts toggle set to off. If you don't want contacts to be created feel free to hit Save now.

If you would like to Create Contacts for your BackAgent Contacts, follow the steps below.
Switch the toggle to Yes, if you would like to create Contacts in Salesforce.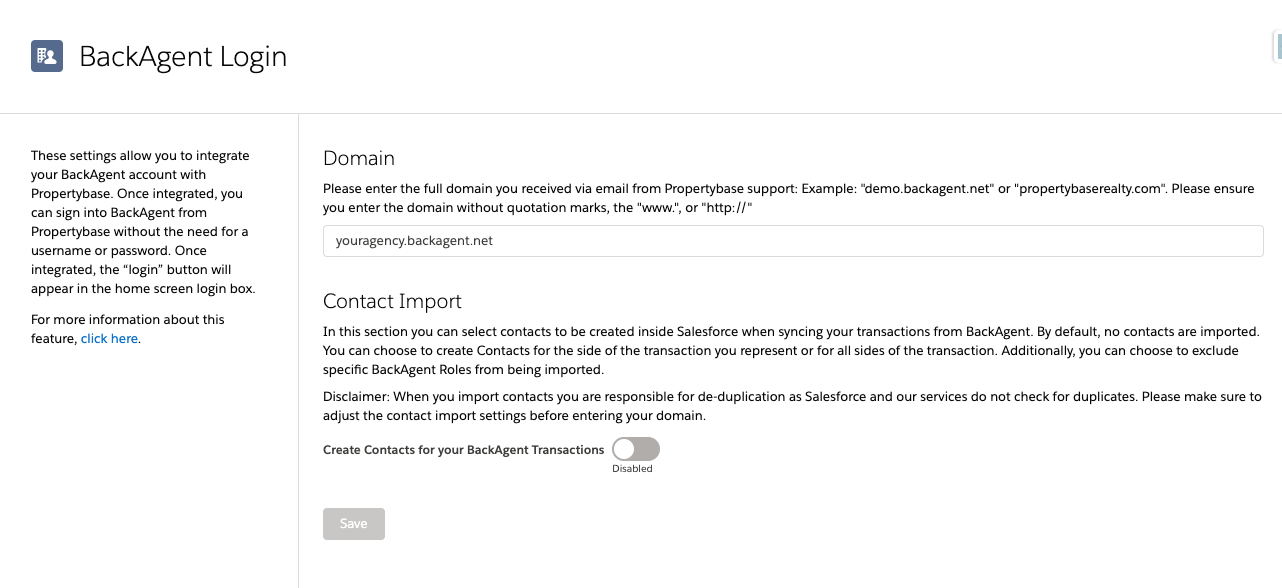 Type Confirm in the Warning if you would like to proceed. (Disclaimer: You have chosen to import BackAgent contacts. Prior to proceeding, we recommend deduplicating your contacts in BackAgent. By proceeding with this import you understand you may create duplicates within your Propertybase CRM.)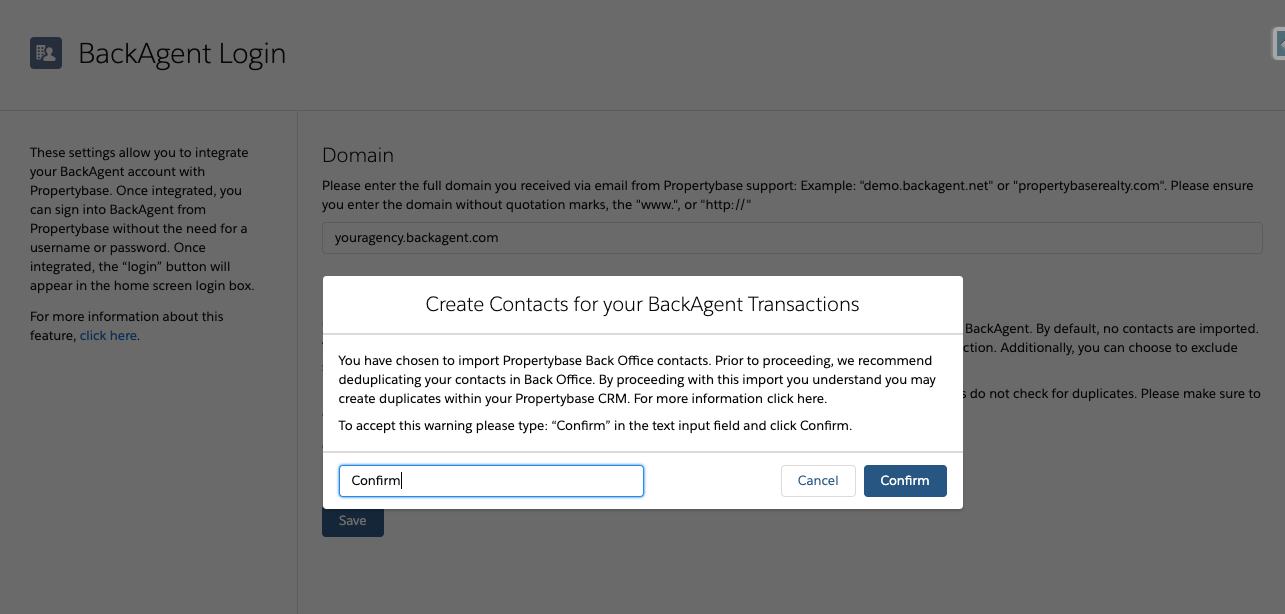 Select if you would like to import Contacts for the side(s) you represented or if you would like to import all contacts associated with your transaction.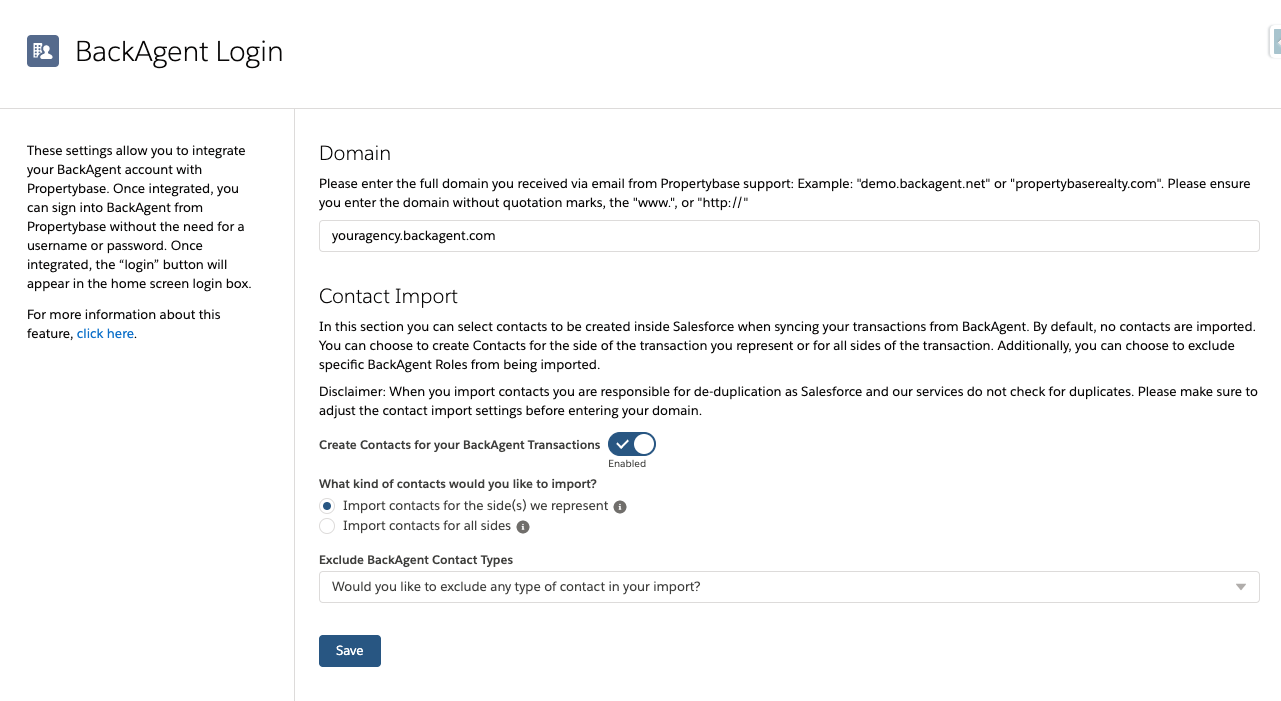 Regardless of your selection, you may select BackAgent Contact Roles you would not like to be imported. (Example: Exclude Vendor or Title Contacts from creating Contacts in Propertybase.)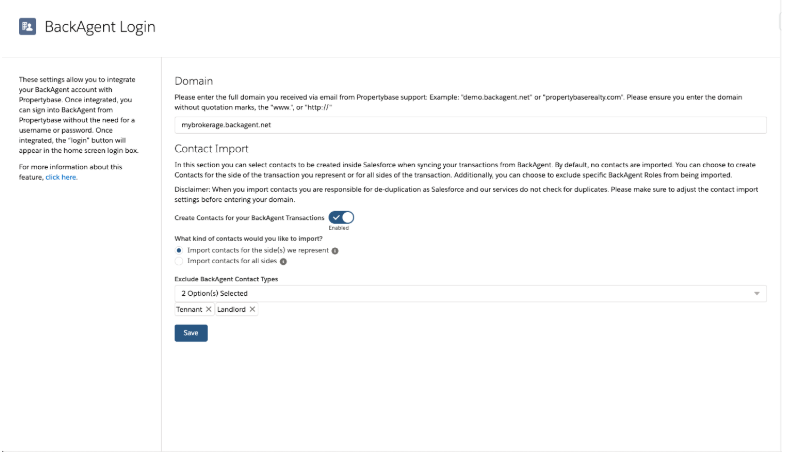 Contact Clean Up (Customers already using the Transaction Sync)
For all customers that are already using the sync these filters will go into effect for all future contacts/transaction updates.
If you detect a lot of duplicate contacts in your org we recommend opening a ticket with Propertybase Support. We will then contact you with a process on how to detect and remove these.
Import Transaction Members
Transaction Member records are imported for all Transactions regardless of your contact import selections so that you always know what persons are associated with a Transaction.
You might have to add the necessary fields like Contact Name, Contact Email, Contact Phone, etc. to the Transaction Member layout
Transactions with Inactive Users
We have added a new field called: xxx to the Transaction that is checked every time when the User, the Transaction is assigned to in BackAgent cannot be found (Reasons: Different Email Address, User not in SF, User deactivated/frozen, etc.).
You might have to add the field to the layout and create a report (add screenshots)
Activation
When the first Transaction is created in the CRM through the SSO (single sign-on) on the Contact, all existing Transactions will automatically be downloaded into the Org.
Go to Contact & Hit New Transaction button to begin Sync.
Release Notes
Last Updated: October 11th, 2018
---
1.0
Single Sign-On (SSO) is available for Propertybase customers with an active BackAgent account.