Setting up Portals Checklist
Let Propertybase know that "you would like to push your Listing feeds through to Portals."

Let Propertybase know which Portals you will be using.

Let Propertybase know if you will be pushing to Residential, Commerical, Sales and/or Rental Listings.
Once you have provided Propertybase with the above information, we will ensure that you have the correct record types available on your Listings, Properties and Enquiries.
Ensure you have ticked 'System Allowed for Portals' checkbox process and have enabled workflows.
Contact your Account Manager for each of the Portals you will be using to request to grant access to Propertybase to send XML Listing feeds to the Portal. This is a very important step.
Now that you have been through the Checklist for Portal set up, you need to activate each Portal in Propertybase and add your unique Agency ID. 
Please note realestate.com.au will provide you with your Agency ID that you need to use.
However for other Portals, if you are not provided with an Agency ID, you can simply use the same ID or an ID you have created, and then input the ID on the Portal record in Propertybase.
If you have already set up Portals and have received an XML error, please refer to this Help file on Troubleshooting.
To activate each Portal record
To activate each Portal, firstly click on the Portals Tab as below. Then click on the Portal name and tick Active and enter your Agency ID, which is provided to you by your Real Estate Portal Provider and click save.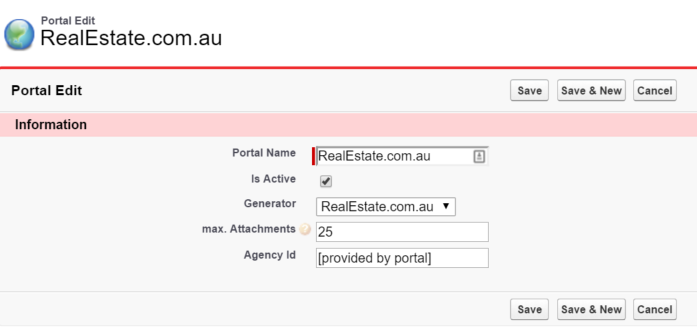 Publishing Listings to your Portals
Now you are ready to PUBLISH you Listings to the Portals! The next step is to go to your Listings record that you wish to make live on the Portals and add or remove listings to your Portals in this section.

Also check that you have the checkbox ticked for System Allowed for Portals and you have entered the Front Desk email and/or Listing Agents details, so that this information can be pushed to the Portal.
When the System Allowed for Portals checkbox is ticked, Propertybase will enable field validations to ensure that you have all the required information that the portal providers require when you edit and save the record. 
FAQs
To view common Listing Portal feed errors, please refer to the Australian Portals - How to correct Portal feed errors Help file.
Q1) None of my Property Listings are being pushed to my Portals. What do I need to do?
Please ensure you have spoken with your Portal Account Manager, to make sure they have granted access for Propertybase to push listings to their Portal. The Portal provider will also need to provide you with your AGENCY ID which you will need to add to the Portal and make the Portal active.
Q2) Where can I view the Listings that have been pushed to the Portal?
You will see the active Listings and the history per portal by clicking on each Portal Name in the Portals tab. 
Also on each Listing record you can track which Portals the Listing has been published to via the 'Listed on these Portals' Related List.
Q3) Where can I find the Portals tab? 
If the Portals tab is not visible on your default tabs, go to the [+] menu to access all tabs at the far right of default tabs:
- and find Portals in the tabs list.  
To add it the default tabs, click the orange 'Customize My Tabs' button at the top right of the screen.  Here you can add or remove tabs and arrange them.
Q4) REA Listing feeds are not pushing to the Portals. What do I need to do?
Realestate.com.au has special ID requirements to be able to push Listings to their Portal. So make sure each Listing has a unique ID in the Portal Unique ID field. It is recommended to have this field set to the Record ID for each Listing by default.
Q5) How often is my Listing published?
It totally depends on the portals. We have "real-time" connections so every "save" on the listing will update the portal. But we have also portals, who just update once every 10 minutes.
Q6) My pictures are not shown on the Portal?
Make sure that you have check the PORTAL FEED checkbox next to the picture in the listing media manager.
Q7) How can videos be made live on the Portal?
Within the Listing Media Manager make sure you add the Video link, rather than uploading the video file. Also for uploading Virtual Tours (where the link actually points to the site of the tour), please make sure you tag the uploaded link as 'Virtual Tour' for this to be uploaded correctly.
Q8) How do I add my Open for Inspection times?
There is a related list on the listing record where you can add your inspection times to the listing. These will be added to the feed to the real estate Portal.