Updating to 1.398 (from 1.367 or higher) Follow
Note: If you are on Propertybase version 1.366 or lower, refer to this article instead.
In this article you will find:
The steps to update your Propertybase ORG if your version is 1.367 and newer
The release notes regarding the versions newer than Propertybase V3 1.367 (at the bottom of this page)
Warning:
Only update to the latest version following the steps in this article if your ORG has already a version greater than 1.366 installed!
To figure out on which Properybase version you are read here.
If you are on an older version:
Please read the corresponding update article here for versions older than 1.366
Or get in touch with our support staff or your account executive
How to update your Propertybase ORG to the latest browser version
The latest version is 1.398.8: 
In this version you will see the that new Browsers contain a improved detail view and duplicate check. In addition, the general performance has been improved as well.
As this package contains new classes, please make sure that all relevant profiles have access to all pba Apex classes.


Prior to the update, please make sure that you create/adjust the Setting called "Forms_configuration" if necessary. As this Setting controls which fields are used in duplicate management & the related Objects that will be available.


Key : forms_configuration  Value (example) :see above link called "Forms_configuration"                                                                     

Paste this link to install Version 1.398.8 

/packaging/installPackage.apexp?p0=04t0B000000QvKG

into the URL field in you browser after the end of the base url (notice the slash is not present):
 

The "na11" may be different depending on your location or if your domain is custom, it will be mydomain.salesforce.com.


Once the new package is shown you need to make some important clicks to ensure success, which will save you a lot of work later!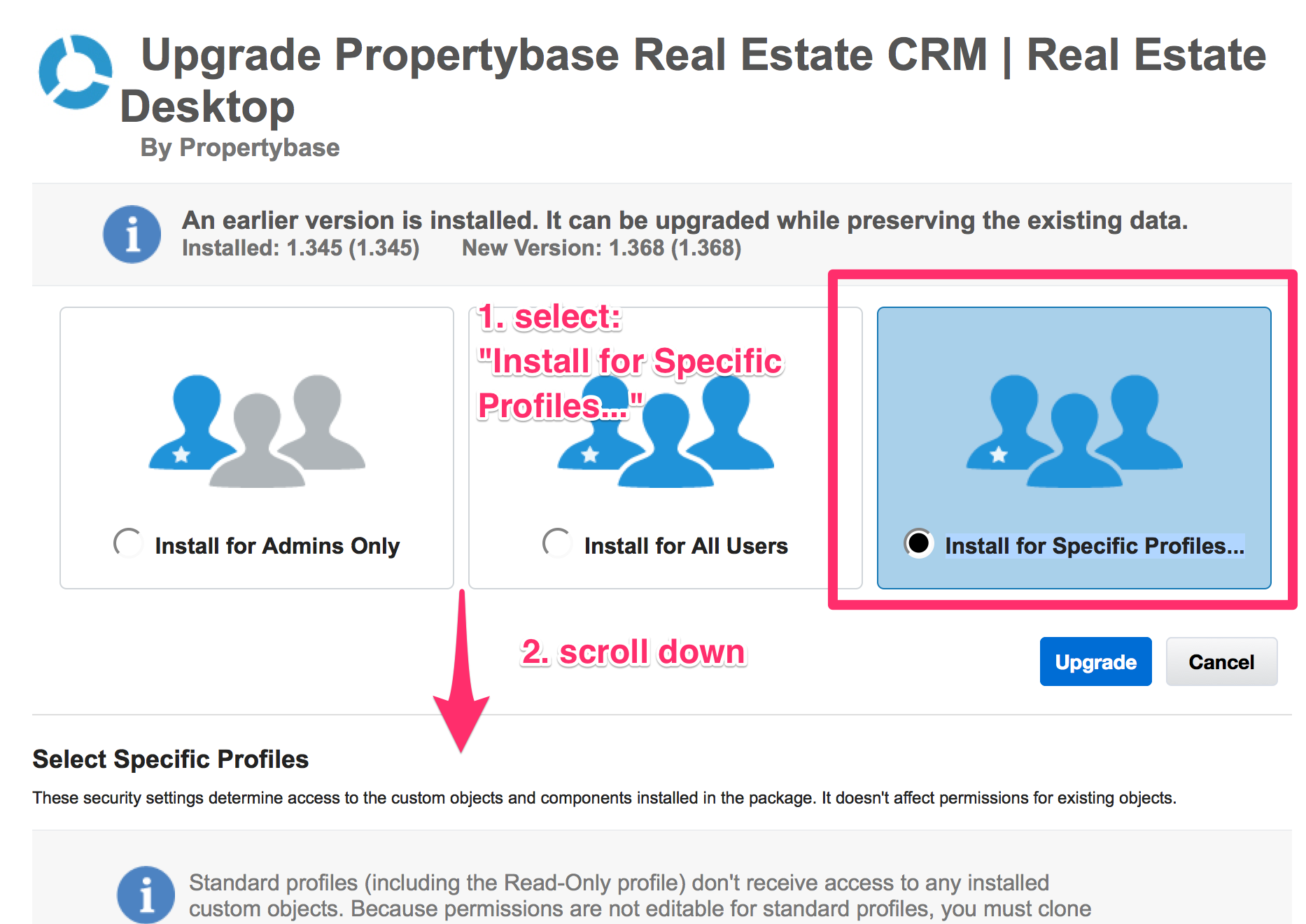 Please select the "Access levels" as explained in the screenshot below: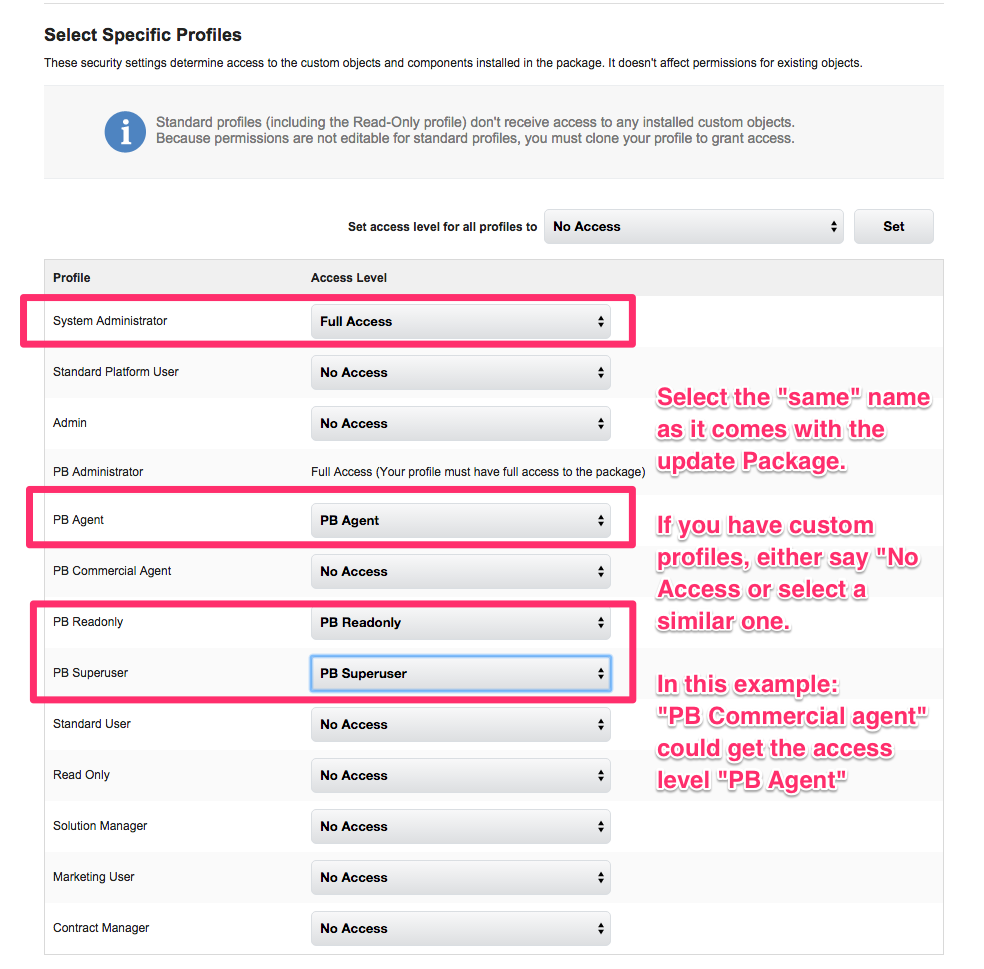 Now you can scroll up again and press "Upgrade".
This page will stay for a while and then tell you that it will take some time and you´ll be informed by email when it´s finished. When you have received the email you can continue.
Release notes - Former versions:
Please note that we only provide information about new features. Every update certainly contains bugfixes, performance and stability improvements!
1.398 New Browsers contain improved detail view and duplicate check, general improved performance This package contains new classes -> make sure that all relevant profiles have access to all pba Apex classes.
1.393 New Browsers support details of all related objects, new duplicate check on "new" on browsers, create a contact with request and task at once Please make sure that you create/adjust the setting "forms_configuration" 
1.389 New Forms, Improved Matching, Images in Listings/Properties lists per Default, New GeoCodingThe Browser now allow to create/edit records directly while browsing. For full user expercience you need to adjust the compact layouts on contacts, properties, listings and request. You can find further information here.
1.383 Improvements for image handling
1.379 Full text search in browser results. Add columns to browser results before Save. Building Stack sorts and new collapsed/expanded.    
1.376 Overhaul of new browser detail view
1.374 French Translation
1.372 Web-to-prospect optimisations
1.370 Fix favorite creation in the send wizard
1.369 Web-to-prospect enhancements
1.368 Italian Translation
1.367 New Browser application introduced