Information about Critical Updates from Salesforce Follow
From time to time, Salesforce sends out auto-generated alerts (e.g. expiring certificates) or critical update notifications to the ORG's admin(s) or asks the admin(s) to review these critical updates on login. These notifications inform you about a core update that Salesforce is providing, usually security relevant.
These updates can be activated and deactivated again for a while, so you can test the behavior of an update related to your custom code. And unless we list an update to avoid on this page below, you can activate all updates or wait until activation is forced (auto-activation date).
Should you have developed custom code or are using another third-party addon and are unsure about an update, please ask your developer/third-party provider to check as well. You can test an update also in a Sandbox environment (recommended: partial/full data sandbox).
CRITICAL UPDATES
>>> Currently there are no critical updates to be avoided for Propertybase. <<<
 If you are unsure if an update will affect your custom code or other third-party addons:
test it by activating it in a partial/full data sandbox first
test it by activating it in production early before auto-activation, so you can deactivate again and take measures, should it not work for you.
talk to your IT/Propertybase admin or consultant to find out about third-party addons
EXPIRING CERTIFICATE 
"ACTION REQUIRED: Default Certificate will Retire on Month day, 201x"
OR
"SFDC Expiring Certificate Notification"
If you have received an email notifying about an expiring certificate, you'll only have to take care of this, if you are using e.g. a Single-Sign-On (what is SSO?) or have setup an app that uses a custom certificate. If you are not sure, please hand it over to the person who set up your Propertybase ORG/test the following in a Sandbox first:
To stop alerts/notifications for expiring certificates, you can remove the certificates:
1. Go to Setup -> search for "Single Sign-On Settings" and if you can only see this one line "pbase SAML SSO Setting", feel free to delete it as explained here:

If you are unsure or see more than one certificate:

test it in a Sandbox first
talk to your IT admin to find out if you are using Single-Sign-On
grant Propertybase Support access and let us know which certificate you are unsure of, so we can double-check
2. Go to "Setup" > search for "Certificate and Key Management" and feel free to delete the certificate(s):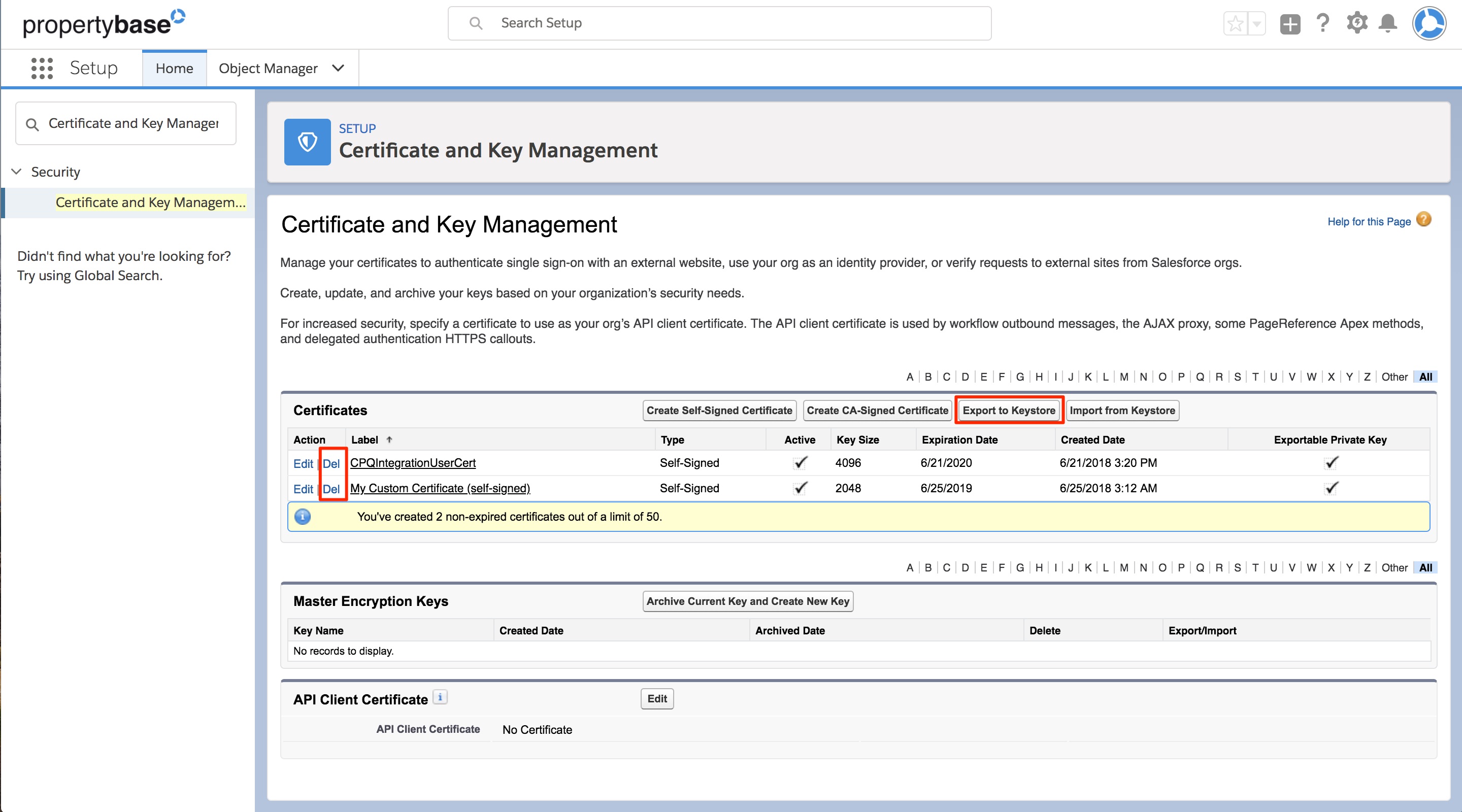 If you are unsure or see more than one certificate:

test it in a Sandbox first
use "Export to Keystore" to create a backup file with all certificates (password-protected) which you could import again
grant Propertybase Support access and let us know which certificate you are unsure of, so we can double-check