You can search all records in Propertybase via the Global Search Bar at the top of the page. In addition to records it will search values found in custom fields and long text fields. Over time it learns what objects and records you use the most and will arrange your search results based on these factors.

Once you begin to enter text a box will drop down to suggest recently viewed items. Additionally, you can click on Search Options to narrow the scope of your search to specific objects. When searching Wild Card operators can also be used to improve search results.
* (asterisk) - Use * to match one or more characters. This will bring up all records and data in the organization that start with this value.
? (question mark) - use ? to match a single character. For example Jo?n. This will bring up results such as John or Joan.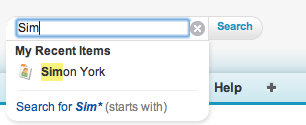 The search results will be grouped by object as demonstrated below. On the left hand side you are able to sort based on the object you use most. Use the pins to customize the sort. By clicking the "Options..." link you can "limit to items I own" or "exact phrase". If you would like to have the fields that appear in the list view customized, please contact your Administrator.