What is My Email to Salesforce?
My Email to Salesforce is a feature that allows you to paste a unique email address into the bcc field when communicating with your leads or customers. This automatically associates the email record with the related contact record to preserve all of your communication with your customers.
Activating Email to Salesforce
Email to Salesforce is a great feature that allows you to sync emails you send from third party email services (e.g. Outlook or Google Mail) to contact records in Propertybase.
This feature must be first activated for use. To activate navigate to: Setup/ Administration Setup/ Email Administration/ Email to Salesforce
Once in the page simply mark the Activate check box.
The next step is to add your acceptable email addresses that SF should recognize to sync to Propertybase and get your Email to Salesforce address to add to your emails sent from your third party account.
Navigate to: Setup/ Personal Setup/ Email/ My Email to Salesforce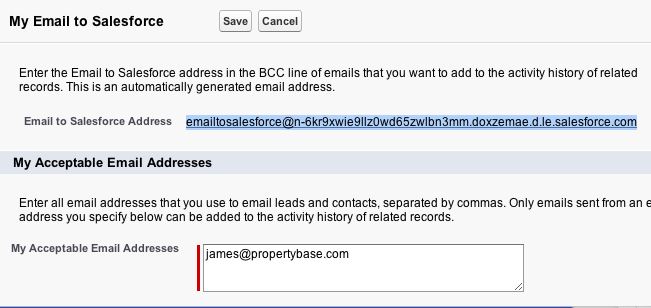 Add all email address (for your particular login credentials) that will be used to email contacts and sync to the system.  You will also see your new Email to Salesforce address, which will look something like this:
emailtosalesforce@nkr9xwie9llz0wd65zwlbn3mm.doxzemae.d.le.salesforc...
Add this to the BCC section of the email you write and it will be synced with the contact record.
Once you send your email to your contact, you will receive a follow up email confirming the sync. If Propertybase does not associate the email to a particular account, it will be put into your Unresolved Issues section found on your Home Page. Then you will be able to create the new contact or associate it manually.